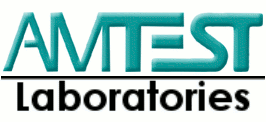 COVID-19 AmTest UPDATE

During this challenging time and the "shelter-in-place" order, we are taking all of the precautions to stay operational. We will be staying open, but on a more limited basis (M-F 8am-4pm). We are not accepting any RUSH samples at this time due to limited staff. We are trying to limit our employees possible exposure by keeping their responsibilities minimized. Thus, sample result turn-around-times could be a little longer than normal during these next few weeks. Feel free to reach out to us with any upcoming projects or needs and we will do our best to accommodate.

We appreciate your understanding and flexibility.

Am Test Inc. is a full service, Washington State Department of Ecology accredited, analytical laboratory that offers a myriad of testing services in the environmental, food, industrial, and biological fields. The laboratory has been in existence since 1977 and in its current facility (Kirkland, WA) since 2008.


Am Test Inc. is a privately held Washington corporation that is locally owned and operated.

©2010 AmTest Inc. | Analytical Testing Laboratories | 13600 NE 126th PL, Suite C, Kirkland, WA 98034 | 425-885-1664(tel) - 425-820-0245(fax)