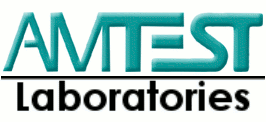 COVID-19 AmTest UPDATE

We are getting back to normal operations and will be open Monday - Friday 8am - 5pm.

Am Test Inc. is a full service, Washington State Department of Ecology accredited, analytical laboratory that offers a myriad of testing services in the environmental, food, industrial, and biological fields. The laboratory has been in existence since 1977 and in its current facility (Kirkland, WA) since 2008.


Am Test Inc. is a privately held Washington corporation that is locally owned and operated.

©2010 AmTest Inc. | Analytical Testing Laboratories | 13600 NE 126th PL, Suite C, Kirkland, WA 98034 | 425-885-1664(tel) - 425-820-0245(fax)