You are here:
Home
> Services
AmTest follows the Laboratory Standard Operating Procedures established by the EPA. Strict attention and documentation of sample receipt, analyses, and chain of custody are maintained in the laboratory. All of the analytical methods are performed in accordance with the accepted procedures of the United States Environmental Protection Agency (USEPA), the American Society for Testing Materials (ASTM) and the Association of Analytical Chemists (AOAC). An established quality assurance program further substantiates the quality of the analytical data. In addition to the qualified staff, the state of the art instrumentation, and the QA/QC program, AmTest participates in a number of Performance Evaluation (PE) programs.
AmTest will provide all of the necessary sample containers, the cost of which will be included in the unit prices. If you have used our services before, feel free to use the Bottle Request Form located
here
. We will also provide coolers, chain of custody forms, and the custody seals in order to provide the necessary documentation from the time of field collection to the time of delivery to the laboratory.
The turn-around time will depend on the number of samples submitted; the number of analyses performed on each sample, and the current laboratory workload. Under most circumstances, the results will be available within ten working days from the time of receipt. Arrangements can be made for "rush analyses" should you need them. This is contingent upon workloads and, ultimately, the AmTest project managers' approval at the time of sample submittal.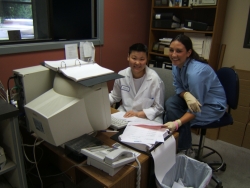 Follow the links below to find out more about the different services we provide:
Informational links:
If you have any questions, feel free to
contact us
.