If you have already ordered bottles from us you are familiar with our "bottle sets". To simplify matters, you may download and print out the form below, fill it in and fax it to us (425-820-0245). If you are not sure of the bottle types that will be needed, please fill out the "Tests" section as completely as possible (i.e Alkalinity, Sulfate, Nitrate, COD, Coliforms etc.).
We will send the bottle sets out within 48 hours of the time that we receive the completed form.
Get the Bottle Request Form
HERE
. This requires Adobe® Reader®
Here is an example of how to fill out the form:

Options:
Bottle Types, P (Plastic), G(Glass), BG(Brown Glass), VOA
Bottle Sizes, 1000 ml, 500 ml, 250 ml, 100 ml
Preservatives, HNO3, H2SO4, NaOH, ZnOAc, EDTA, None
Matrix, S (Soil), W (Water), SL (Sludge), SD (Sediment)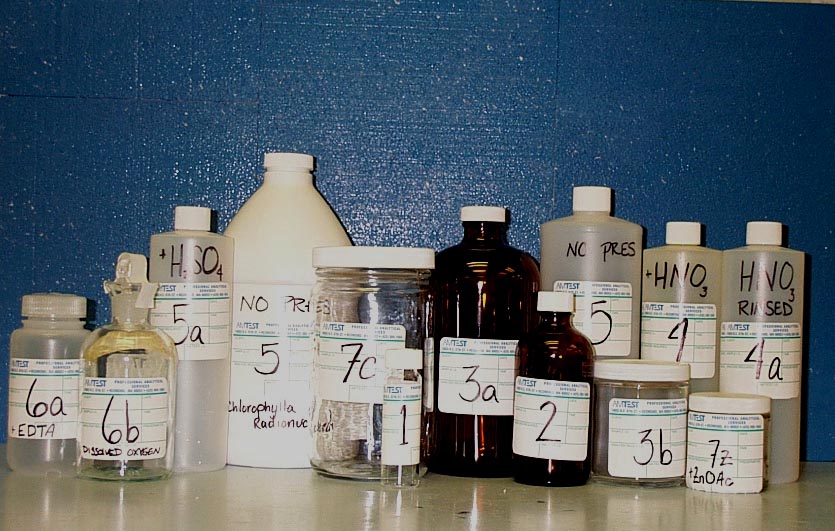 1) Clear glass vial with septa (40 ml) for Volatile Organics Analysis (VOA)
2) Brown Glass Bottle with Septa for TOX (NP), TOC (H2SO4) and Phenol (H2SO4)
3a) Brown Glass Bottle (1L) for Semi-Volatiles, Pesticides, Herbicides, Fuels etc. in water
3b) Clear 16 oz jar for Semi-Volatiles, Pesticides, Herbicides, Fuels etc. in soil
4) Polyethylene Bottle for Total Trace Metals analyses, Nitric acid preserved
4a) Polyethylene Bottle for Dissolved Metals analyses, Nitric acid rinsed
5) Polyethylene Bottle for Nutrients (No Preservative)
5a) Polyethylene Bottle for Nutrients (Sulfuric Acid)
6a) Polyethylene Bottle for Bacteriological Analyses (Sterlized and EDTA)
6b) Wheaton DO Bottle for Dissolved Oxygen (Sodium Azide)
7c) Glass Jar (1L) for Oil and Grease in Water (solvent rinsed) or for Sediments
7z) Glass Jar (4oz) for Sulfides in Sediments (Zinc Acetate)
If you have any questions about Bottle Requests, contact Customer Service at
customerservice@amtestlab.com
.