We provide several different testing services to our customers. Our facilities and our exceptional expertise here at Am Test Inc. ensure that we provide the best possible test results in the the quickest amount of time. All of this is done while still following all the appropriate guidelines and regulations and also providing the best customer service possible.
The following is a list of some of the different analyses we provide: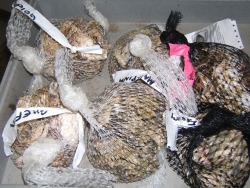 Trace Metals
Inorganic Compounds
Organics including Volatiles, Semi-Volatiles, TPH, Pesticides, Herbicides, Alcohols & Glycols, and HAA's.
Industrial Chemistry including Air filters, BTU's, Karl Fisher Water, and Hazardous Waste profiles.
Bacterial analysis in water, food, shellfish, and biosolids.
For specific test pricing information,
click here
.
If you have any questions, feel free to
contact us
.