Biosolids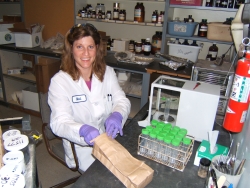 Biosolids are the nutrient-rich organic product of wastewater treatment. Everyone contributes directly or indirectly to Biosolids, as both businesses and households generate them. Following treatment, Biosolids are recycled as a fertilizer and soil conditioner in agricultural and forestry, and in a variety of research and environmental restoration projects.
The U.S. Environmental Protection Agency's (EPA) Part 503 rule provides comprehensive requirements for the management of biosolids generated during the process of treating municipal wastewater. The Part 503 rule creates incentives for the beneficial use of biosolids. EPA believes that biosolids are an important resource that can, and should, be used (i.e. to condition soils and provide nutrients for agricultural, horticultural, and forest crops and vegetation, and for reclaiming and revegetating areas disturbed by mining, construction,and waste disposal activities). To obtain more information about the 503 rule, please visit
"A Plain English Guide to the EPA Part 503 Biosolids Rule"
.
Biosolids contain nitrogen, phosphorus, potassium, sulfur and other nutrients needed by plants. To ensure the quality and safety of biosolids, the physical, chemical and microbial characteristics are regularly monitored. At Am Test, we perform a complete series of tests referred to as the "Department of Ecology Biosolids Compliance Package".
If you have any questions, feel free to
contact us
.